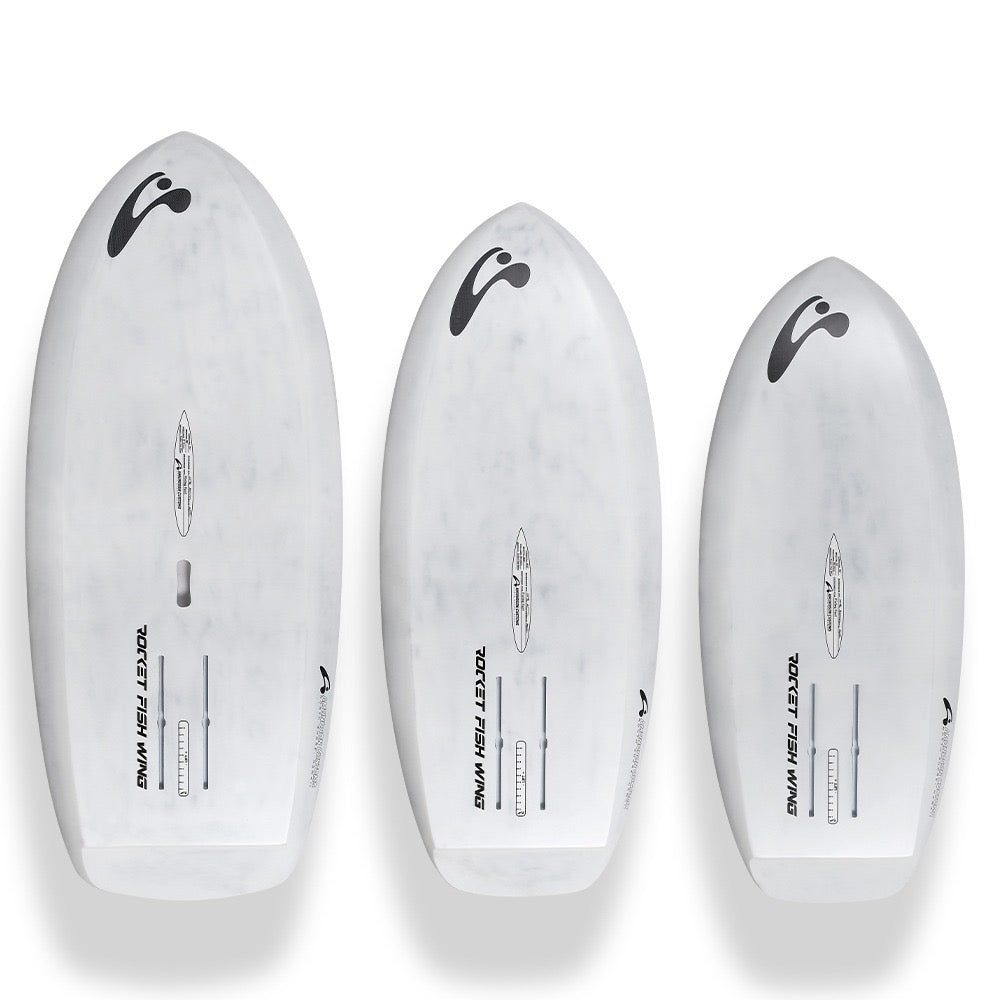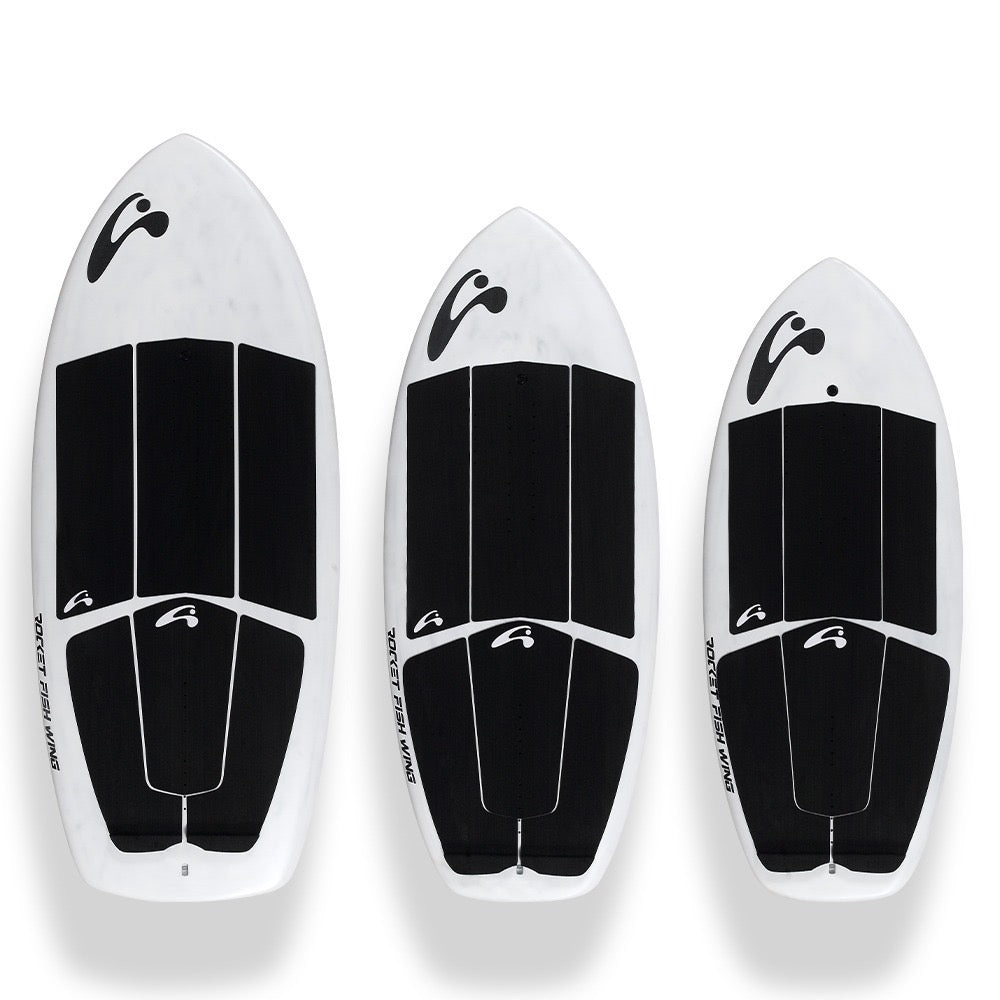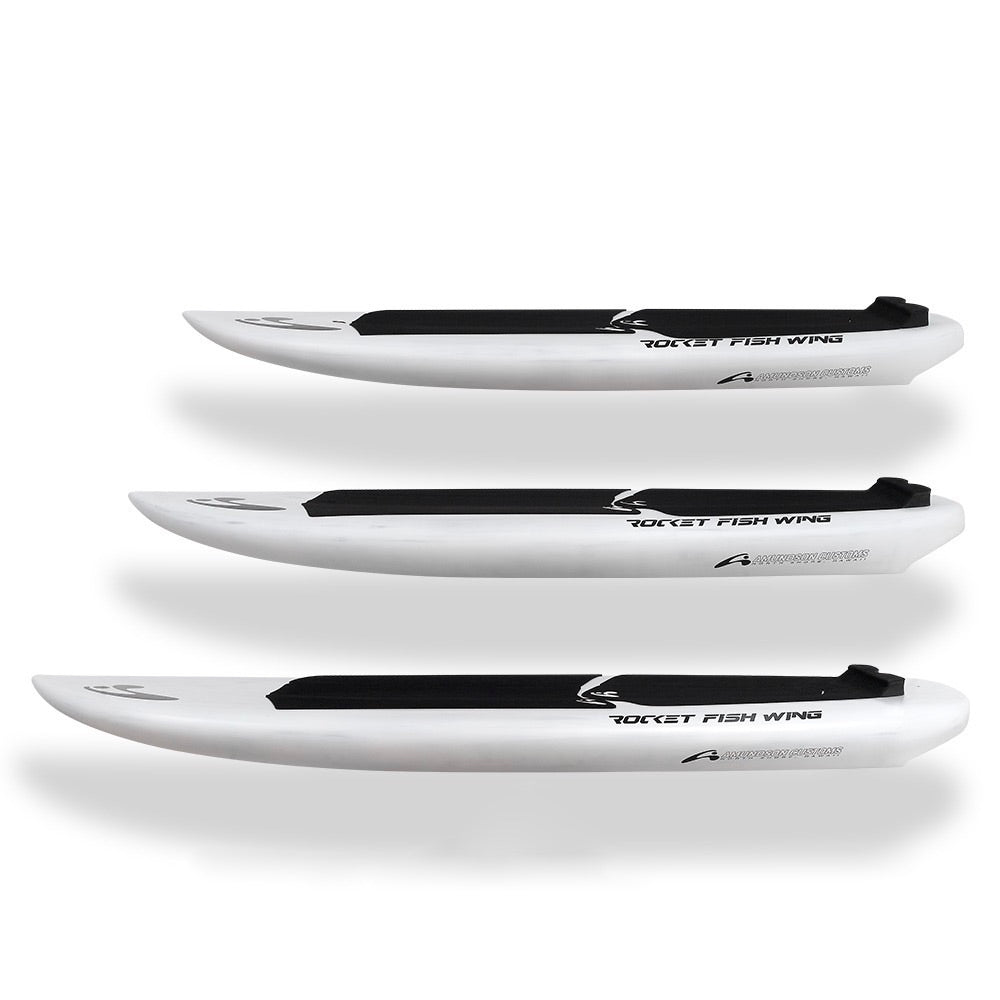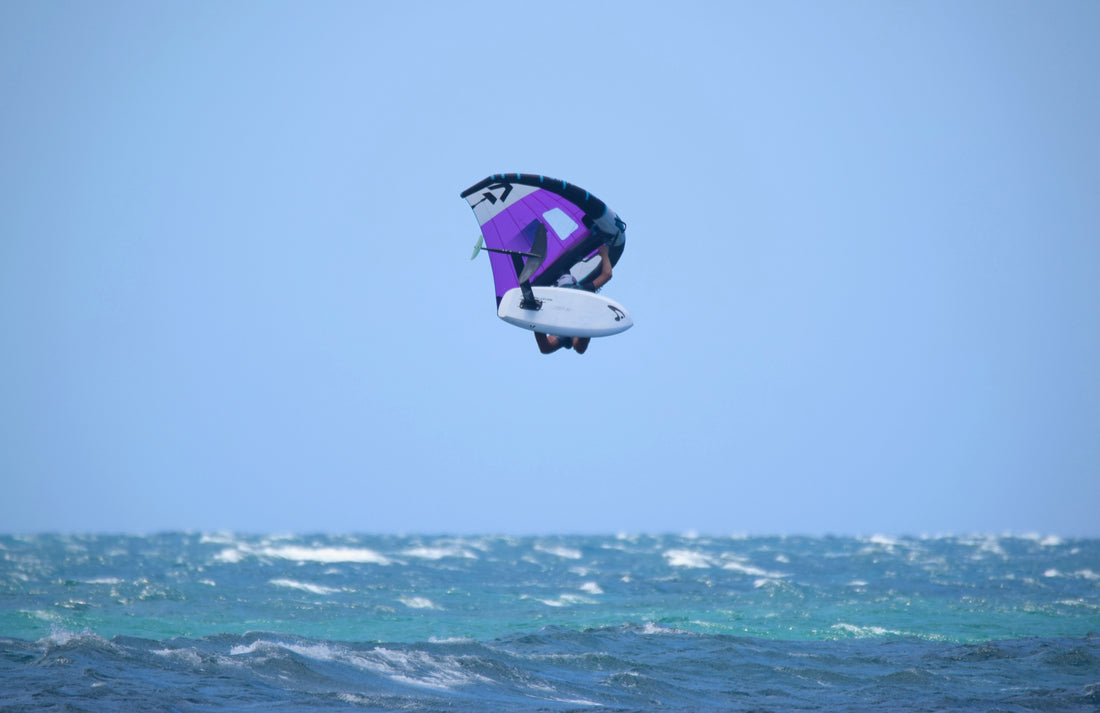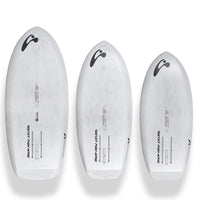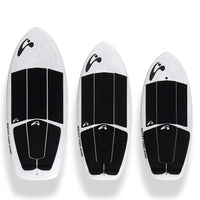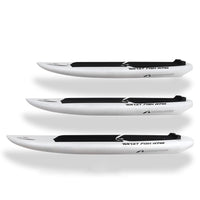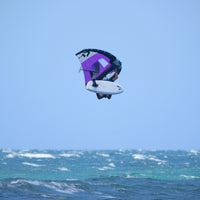 Rocket Fish / Wing Foil Board

THE DESIGN
The new Rocket Fish Wing is a product of tireless designing, testing and redesigning. 
FEATURES
Optimized Mast Track Position:  The mast track positioning on the Rocket Fish Wing have been optimized for winging specifically. Pushing the boxes further forward helps for an earlier plane and better maneuverability.
Multi Option Foot Strap Inserts:  Front foot strap inserts allow for regular, goofy, straight down the center or "V" (two strap) stance.
Bottom Handle (5'4'' Only):  A bottom handle for the 5'4'' was added to allow the rider to carry the board foil out and away for the wing.
Vent Plug:  A vent plug is added to equalize pressure inside the board.
High Volume: The Rocket Fish Wing has a high volume for winging: 4'6''@50liters, 4'10''@65 liters and 5'4''@80 liters.
Concave Deck: The concave deck gives the rider rock solid control with every input of heel and toe being translated directly into the foil. This gives the Rocket Fish Wing an incredibly sensitive feel.
Beveled Rail: The bevel rail design gives more clearance between the rail and water when laying over into turns. This rail design also helps recover and rebound after touching down in a hard turn.
Kick Tail: This tail allows the rider to kick the board up onto the foil much sooner than a flat tail. The kick tail also gives more clearance in steeper waves and in hard turns.
Full Deck Pads: Amundson Customs is proud to introduce the new corduroy cut deck pad. This pad is less aggressive than a traditional pad, reducing rash but increasing grip.
"Lift Stick": Every board comes with a "Lift Stick" or mast placement measurement logo. This logo helps gauge placement of you mast. The Lift Stick has a + and – to indicate more lift (+ moving mast forward) or less lift (- moving mast back).  
Mounting Hardware: Your board comes with high quality M8 stainless steel foil mounting hardware.
NEW Ultra Light VACUUM CARBON CONSTRUCTION!
The Rocket Fish Wing is built with a high density EPS core that is CNC machined and hand finished. The finished blank is then fitted with a shock absorbing/load spreading high density PVC foam "T Plate". The T Plate was designed by John specifically for the high demands of winging, particularly for the stress of jumping. The T Plate creates a box mounting foundation that connects to the deck giving the board unmatched strength. The Rocket Fish Wing  is then laminated with a high quality carbon fiber and then cured under vacuum pressure. What this means, excess epoxy is removed for lightness and carbon weave is compressed together for a high degree of stiffness. The board is finished with high quality polyurethane paint. Not only does this construction look beautiful, it is light and stiff for ultimate performance. 
WHO IS THIS BOARD FOR?
The 5'4'' is geared more towards the beginner, light wind conditions or larger rider. The 4'6'' and 4'10'' are both geared towards the higher level riders.
All orders ship from the North Shore of Oahu, Hawaii.
Prone Foil Boards will be shipped with FedEx for $90 within the U.S and $45 Inter-Island in Hawaii. For Puerto Rico we ship air cargo to SJU for $100.
SUP Foil Boards will be shipped with air cargo to most U.S. major airports for pickup. The shipping cost is $140. For Hawaii inter-island we ship with Aloha Cargo and we ship collect (pay for shipping when you pick up). The inter-island shipping cost is $80 or less. Shipping of the SUP Foil Boards require pick-up at the airport. We have found that this is the most cost-effective way to ship our SUP Foil Boards. 
Pick Up is available if you are on Oahu. Just choose the Pick-Up option during checkout.
For International Shipping, please contact us by email.