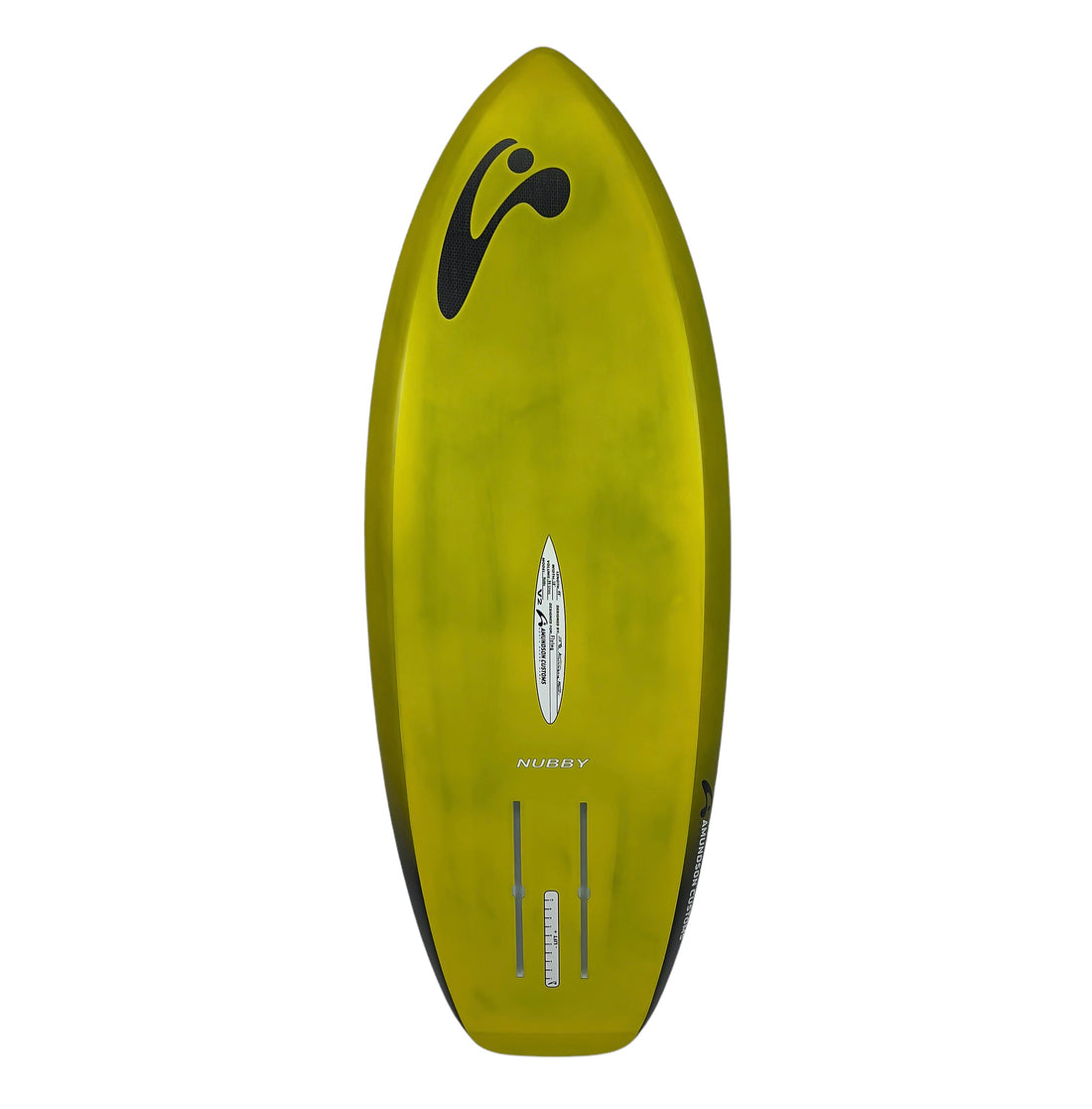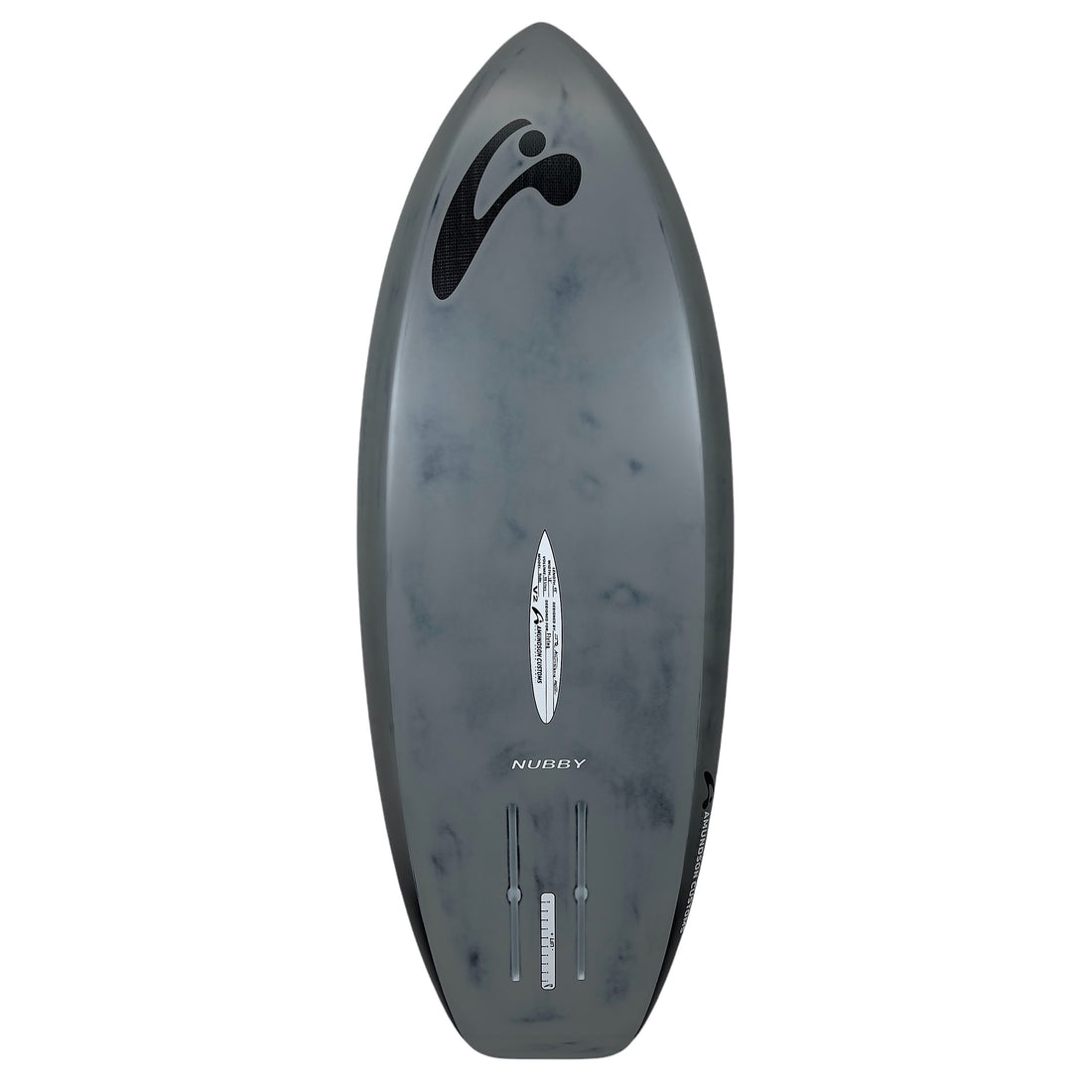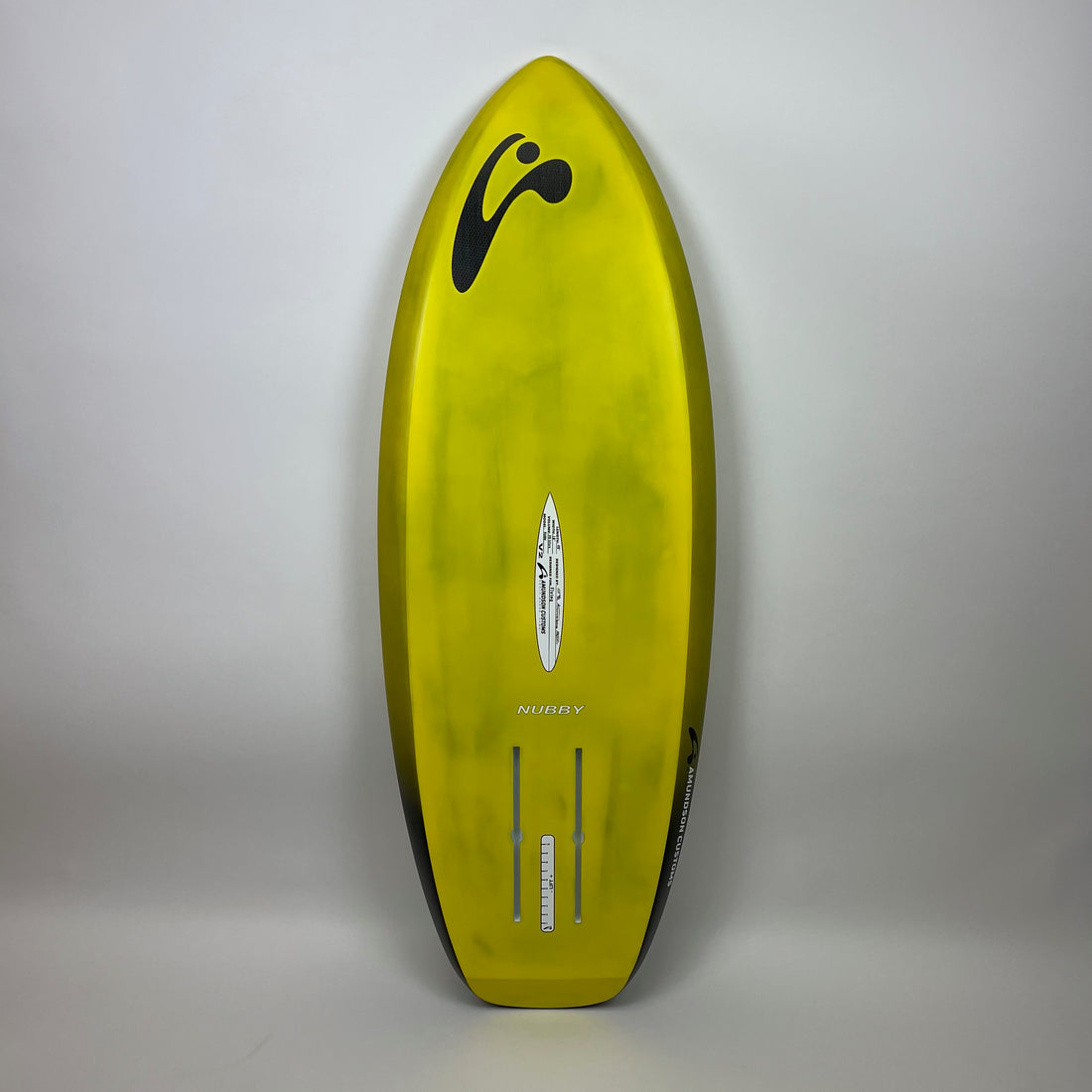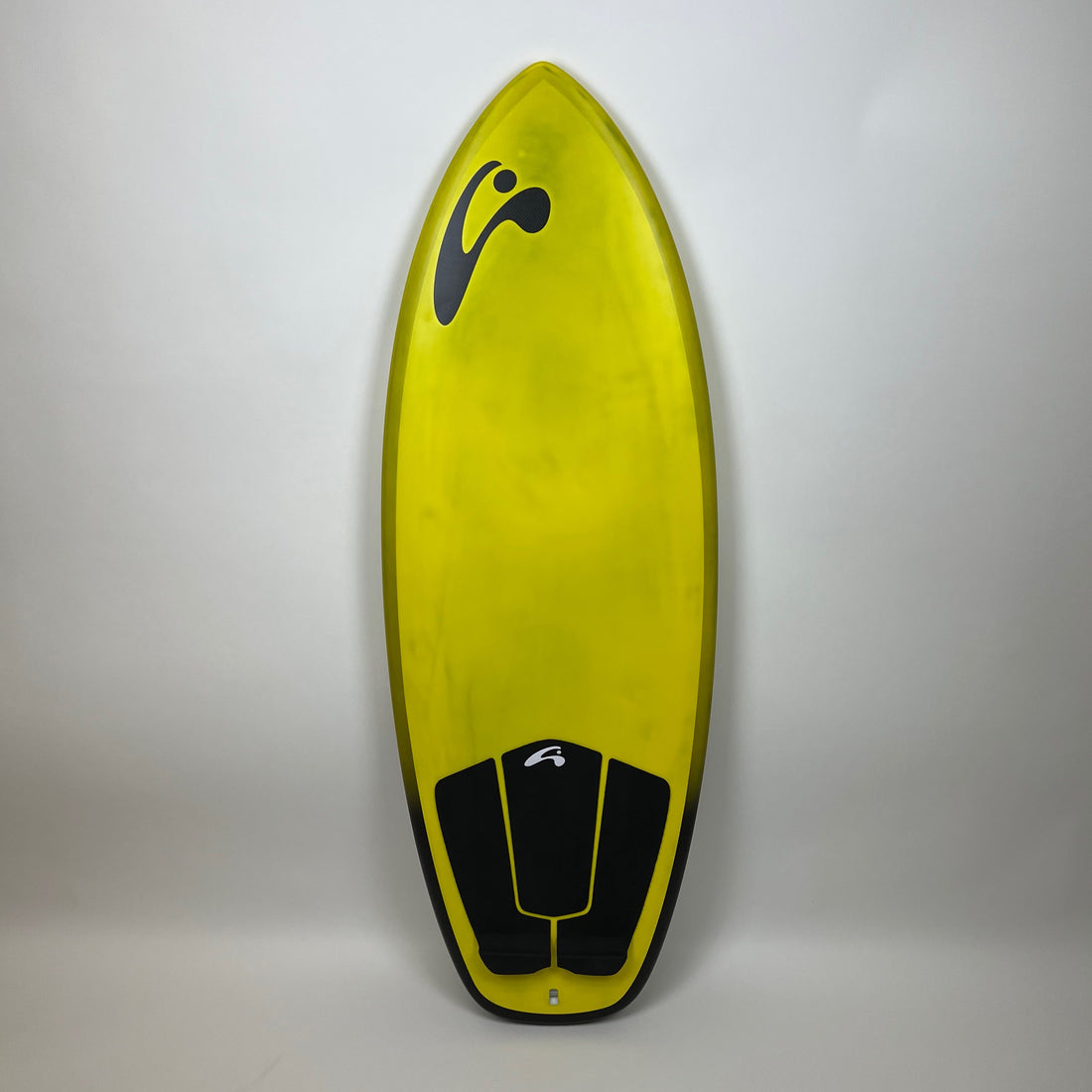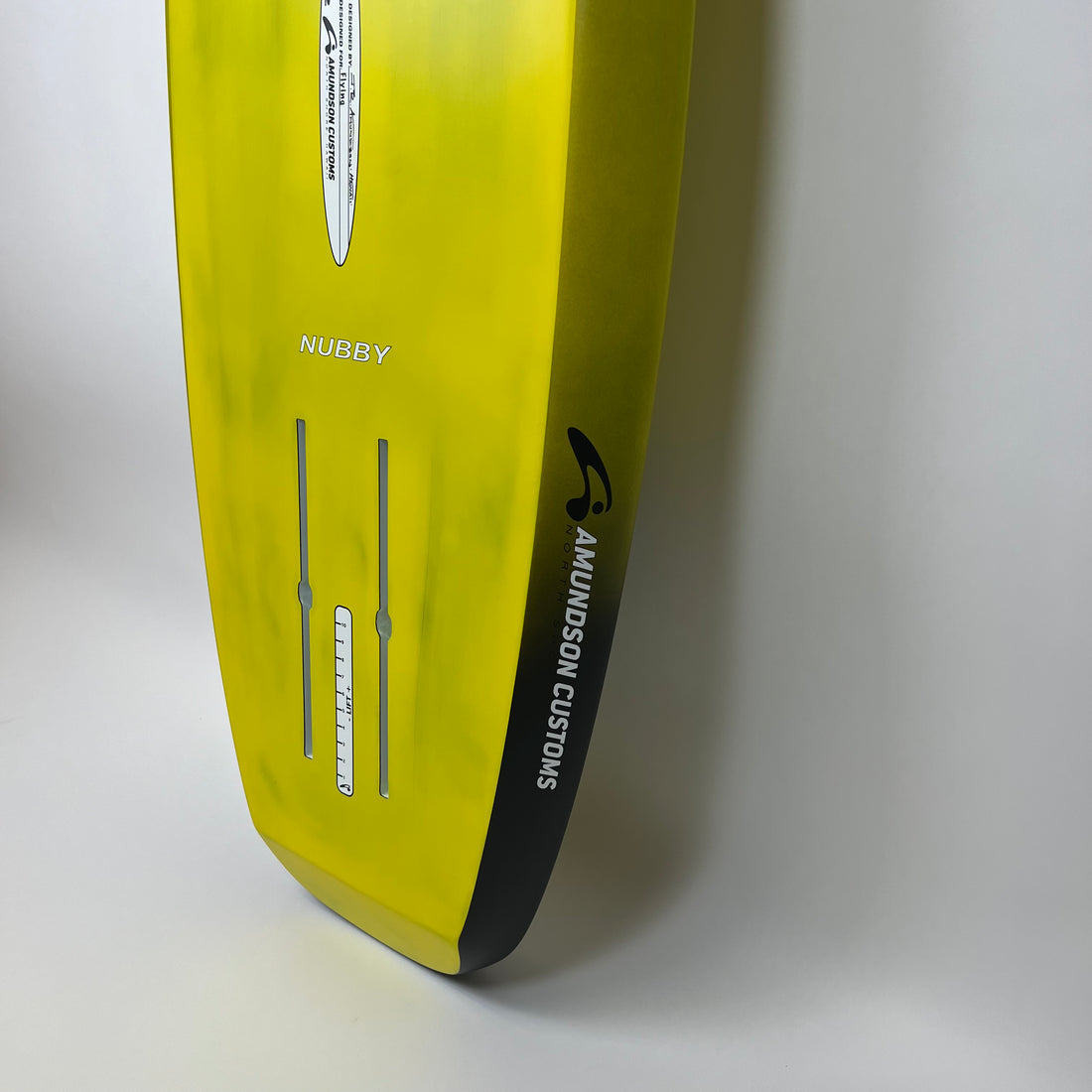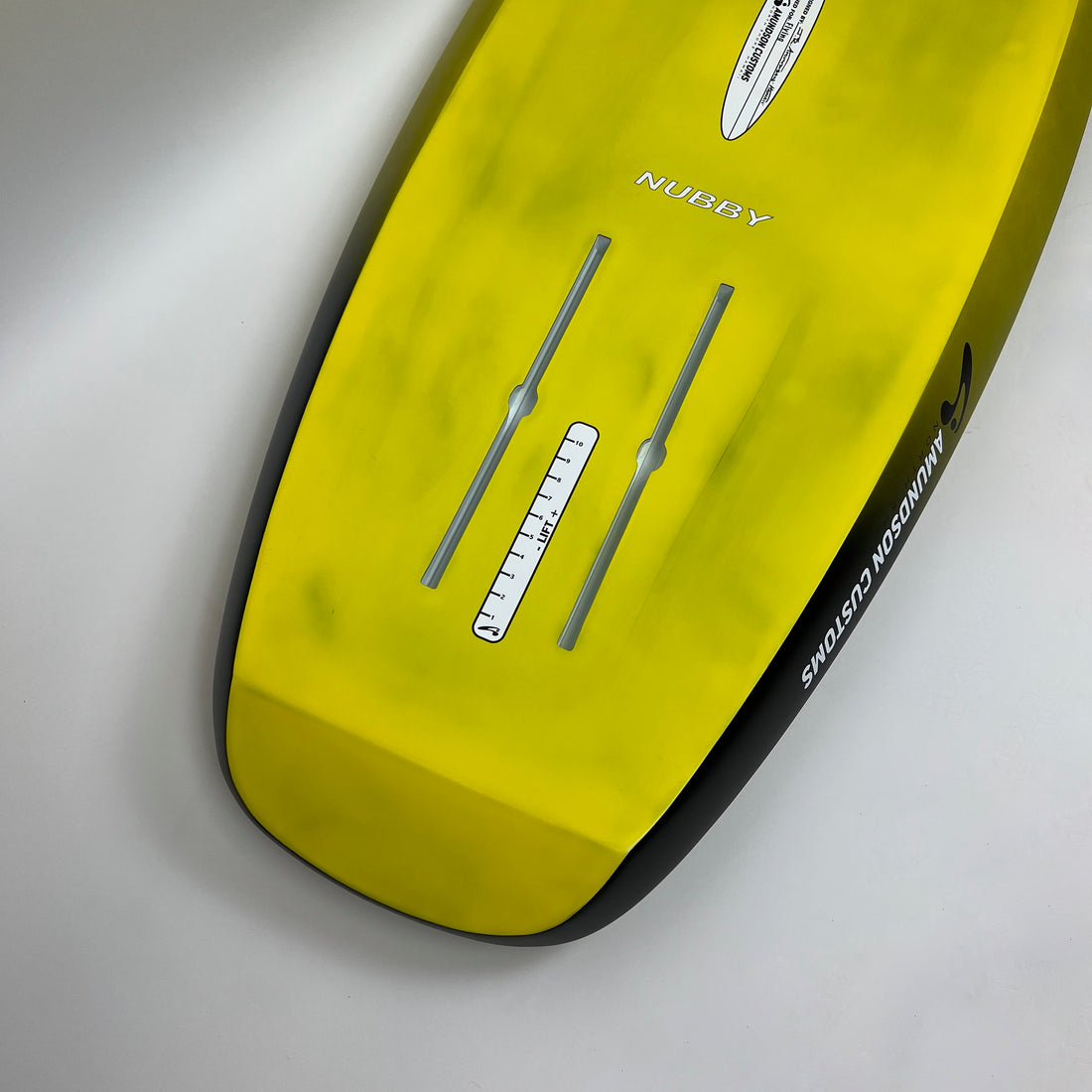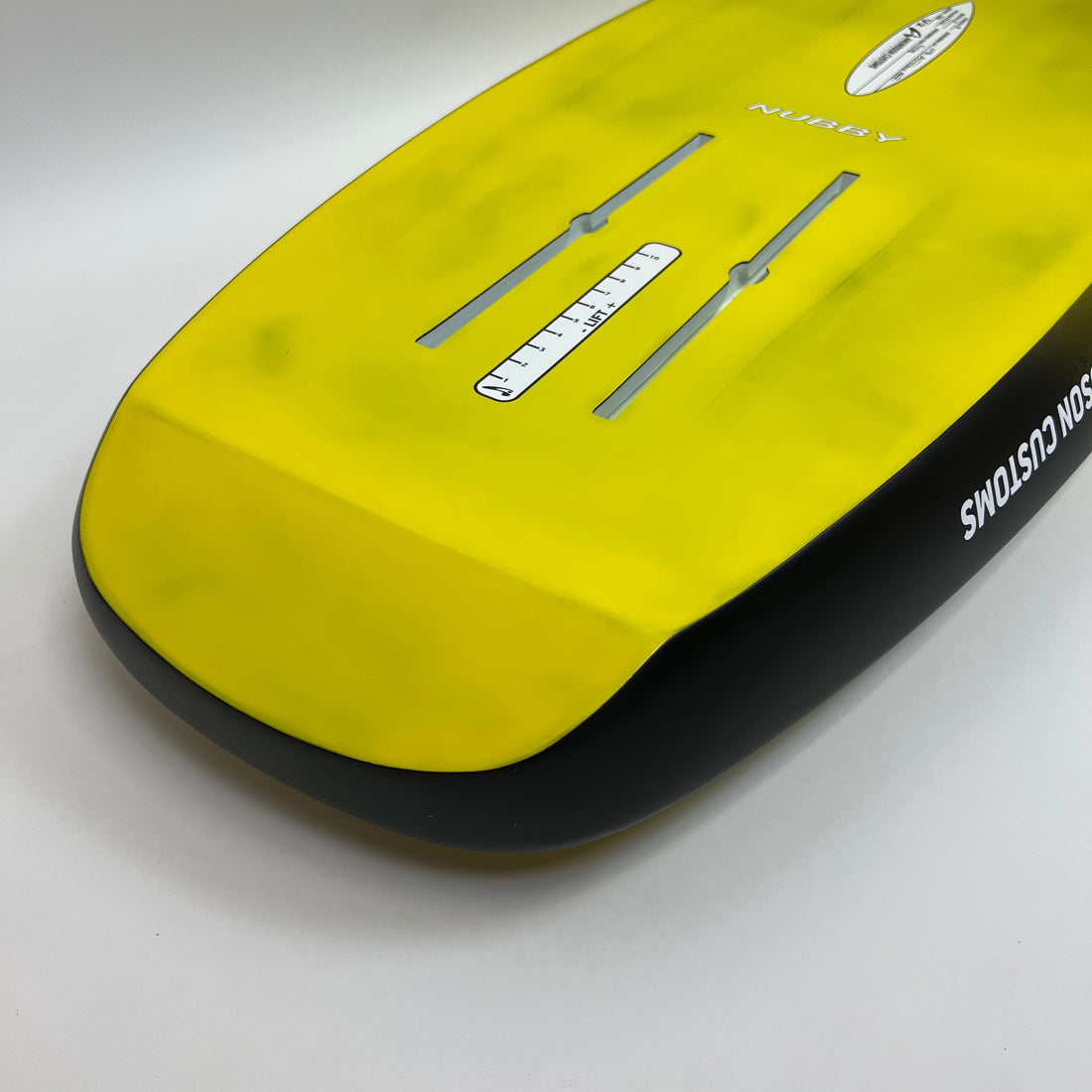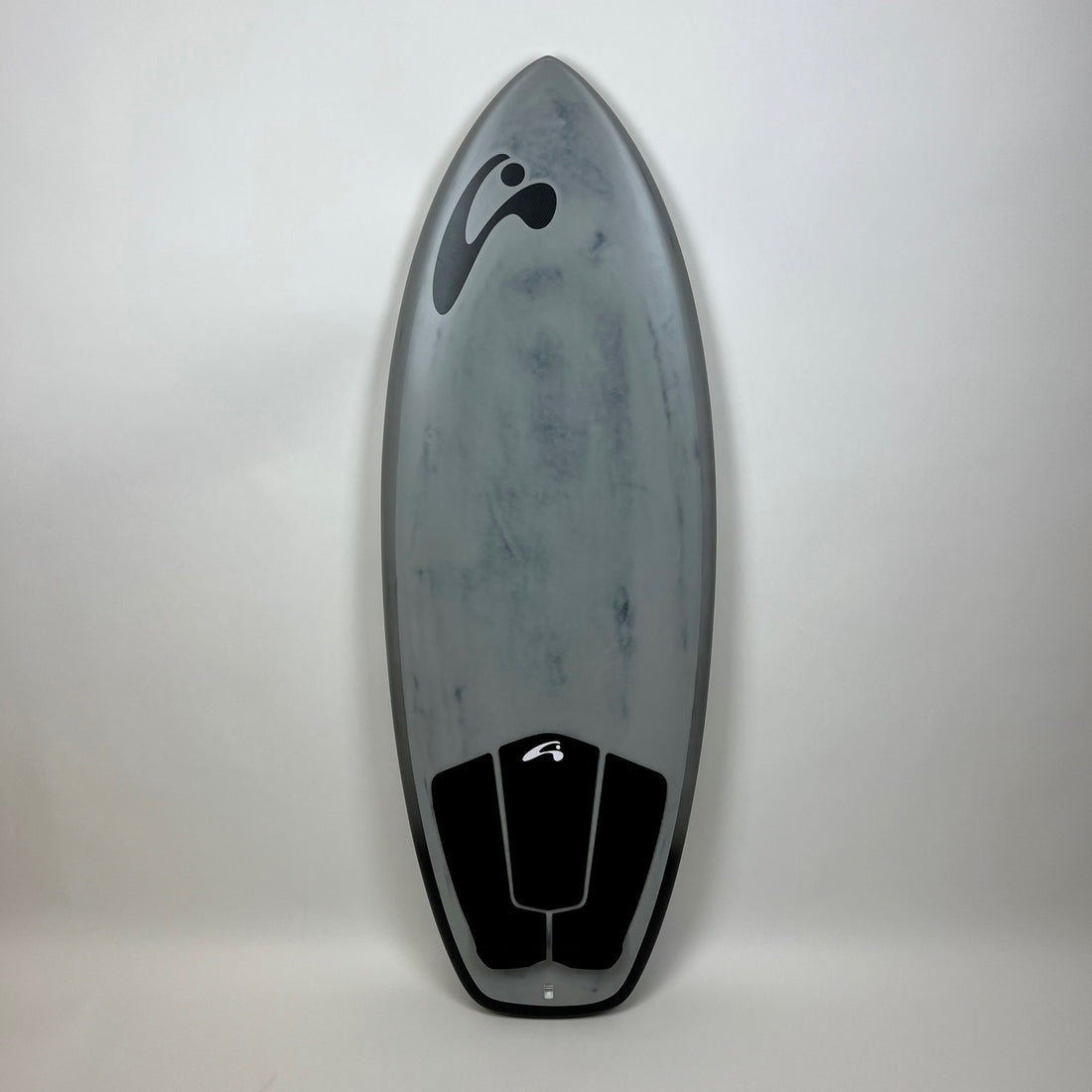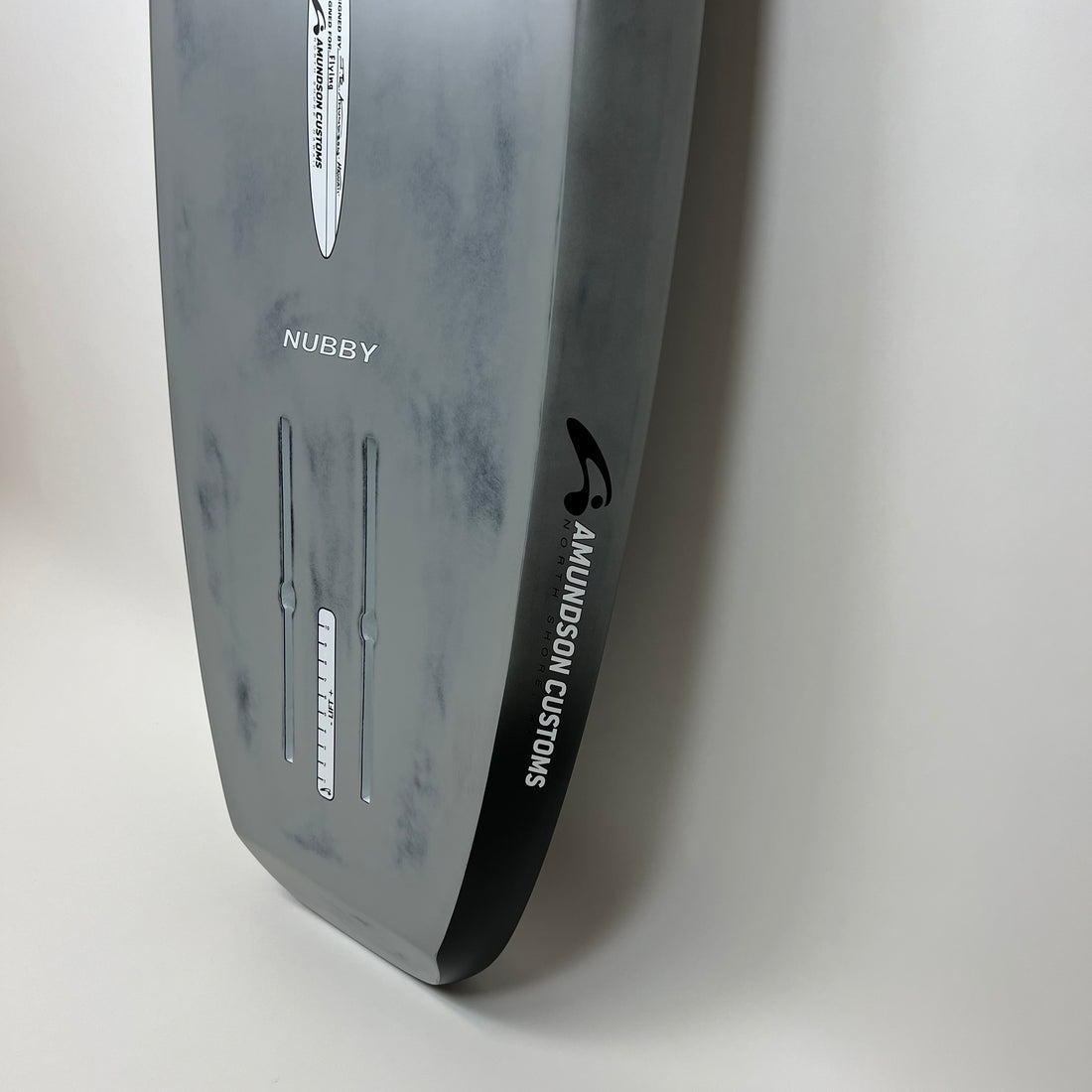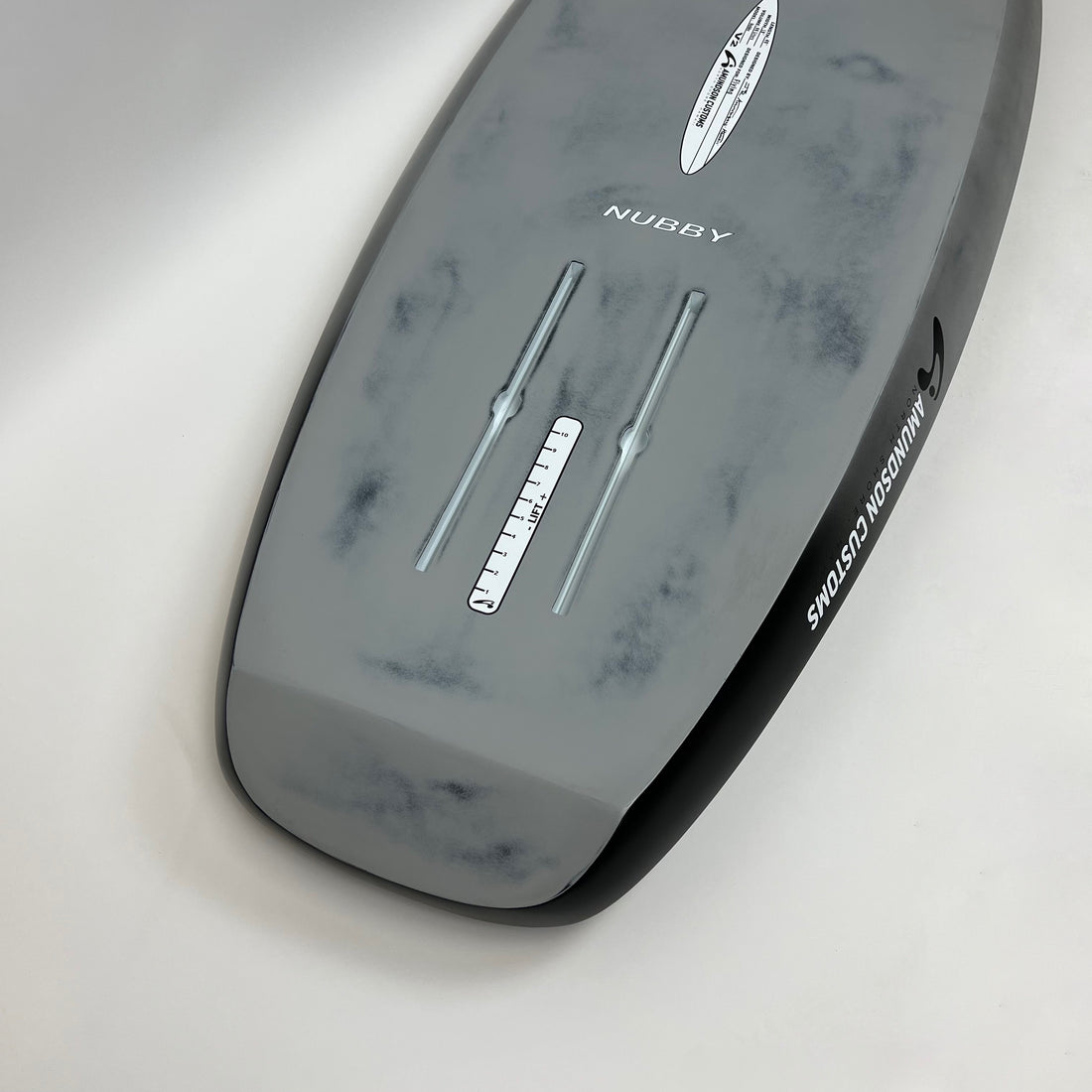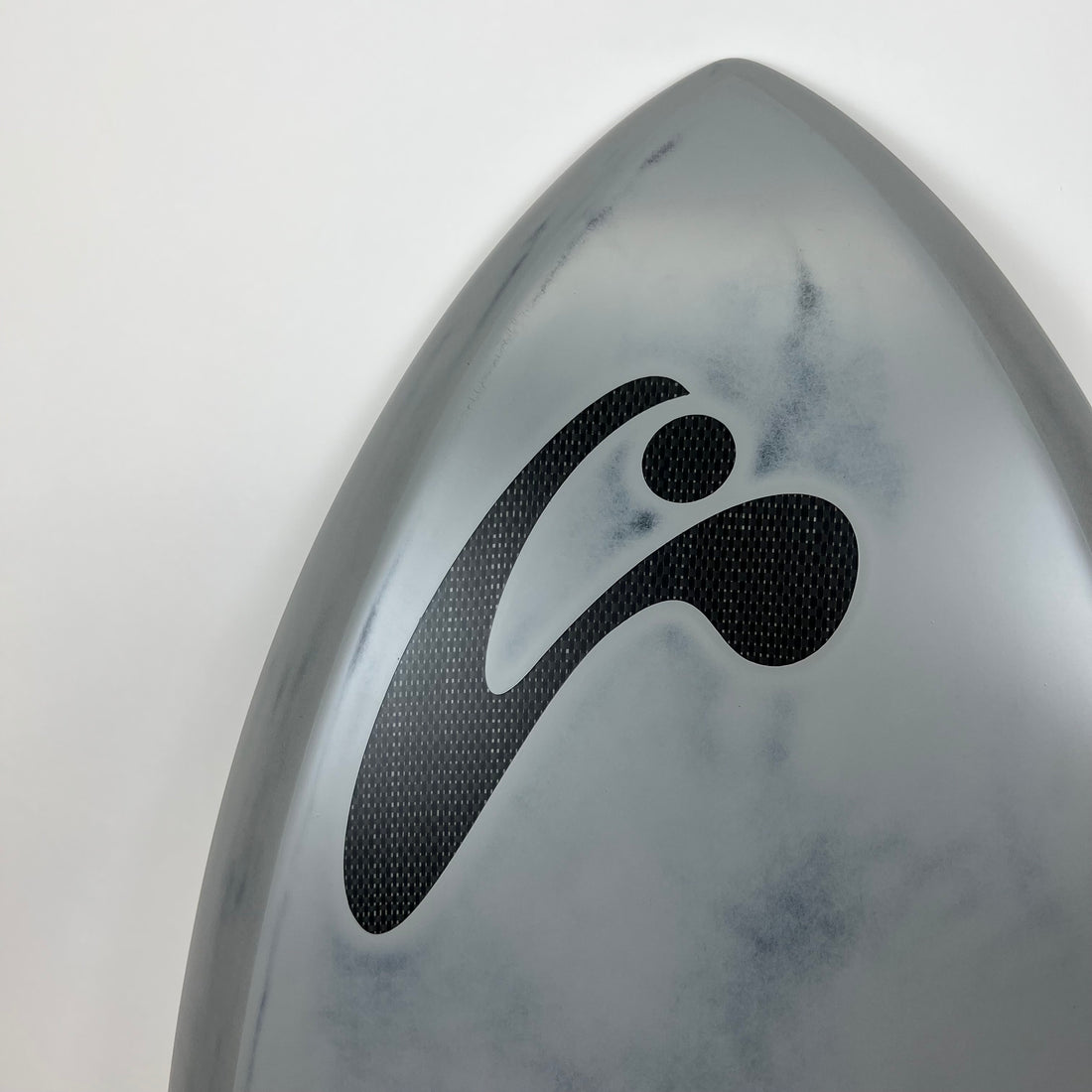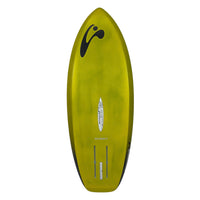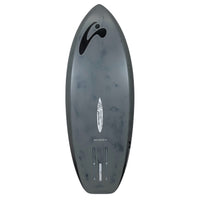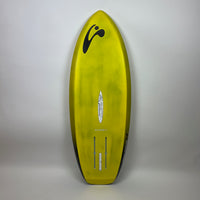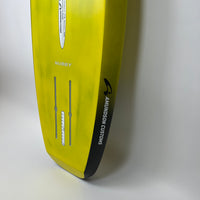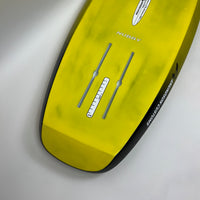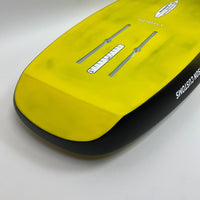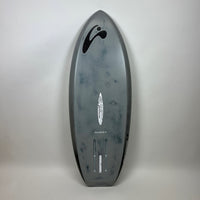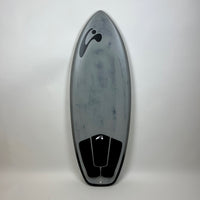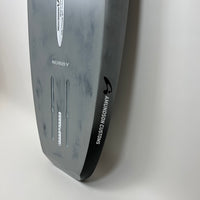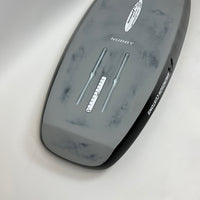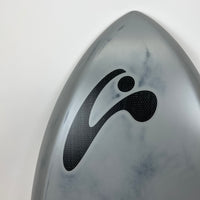 Nubby V2 / Prone Foil Board
THE DESIGN
The Nubby is a very stable performance design, meaning, the Nubby can be the first board (beginner) but can also be appreciated by the high level rider. The wider outline and steeper rail bevel give the rider stability when paddling, jumping up to their feet and a smooth feeling turn. The wider tail block gives a breaking or broken wave something to push on when taking of.
FEATURES
Concave Deck: The concave deck gives the rider rock solid control with every input of heel and toe being translated directly into the foil. This gives the Nubby an incredibly sensitive feel.
Beveled Rail: The bevel rail design gives more clearance between the rail and water when laying over into turns. This rail design also helps recover and rebound after touching down in a hard turn.
Kick Tail: This tail allows the rider to kick the board up onto the foil much sooner than a flat tail. The kick tail also gives more clearance in steeper waves and in hard turns.
Tail Pad: Amundson Customs is proud to introduce the new corduroy cut rear deck pad. This pad is less aggressive than a traditional pad, reducing rash but increasing grip.
Mounting Hardware: Your board comes with high quality M8 stainless steel foil mounting hardware.
NEW FULL CARBON CONSTRUCTION!
These foil boards are built with a high density EPS core that is CNC machined and hand finished. The finished blank is then fitted with a shock absorbing/load spreading high density PVC foam plate with flanged mast tracks, this assures a very strong connection between your board and foil. The Nubby is then hand laminated with a carbon/Inegra patch over mast track assembly, full carbon top and bottom and then finished with high quality polyurethane paint. Not only does this construction look beautiful, it is very strong, light and stiff for maximum performance.
WHO IS THIS BOARD FOR?
This board is for the beginner, intermediate to advanced level riders. Surfers with short board paddling skills will have no problem learning on the Nubby.  This design works best for wave riding, tow in foiling, down wind, wake foiling and beach/dock start pumping.
FREE BOARD BAG WHEN YOU PURCHASE A NUBBY! 
Price includes board, board bag, rear pad and mounting hardware.
Available in two color options: Yellow with black fade and light grey with black fade.  
BOX PLACEMENT
4'2": 5.5"
4'6": 6.5"
4'10": 7"
5'0": 7.5"

All orders ship from the North Shore of Oahu, Hawaii.
Prone Foil Boards will be shipped with FedEx for $90 within the U.S and $45 Inter-Island in Hawaii. For Puerto Rico we ship air cargo to SJU for $100.
SUP Foil Boards will be shipped with air cargo to most U.S. major airports for pickup. The shipping cost is $140. For Hawaii inter-island we ship with Aloha Cargo and we ship collect (pay for shipping when you pick up). The inter-island shipping cost is $80 or less. Shipping of the SUP Foil Boards require pick-up at the airport. We have found that this is the most cost-effective way to ship our SUP Foil Boards. 
Pick Up is available if you are on Oahu. Just choose the Pick-Up option during checkout.
For International Shipping, please contact us by email.